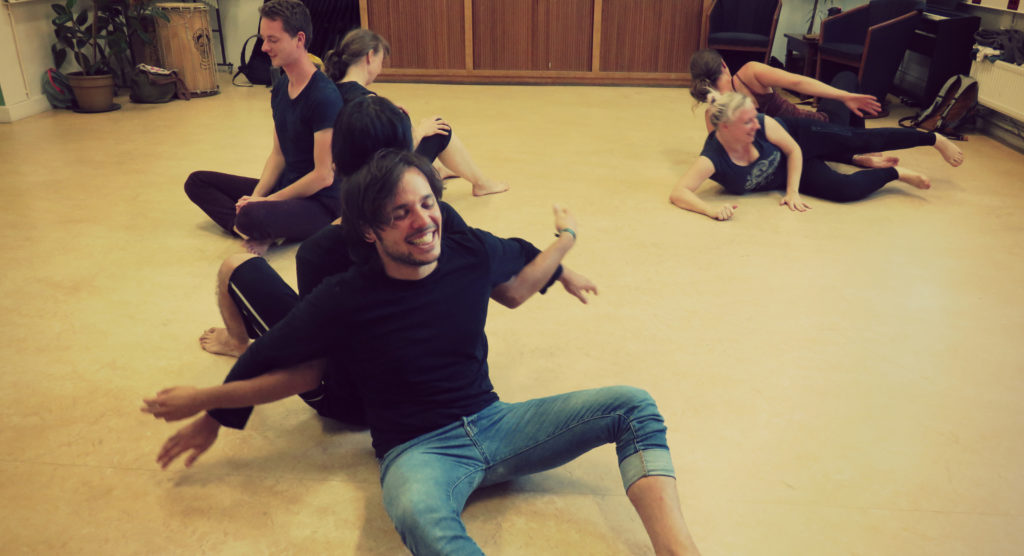 Mondays 19:00 – 21:00
Costs: 132,- 6 week course
Dates: 18-09 until 23-10
Next course (and try outs) start at 29-01-24.
How can we be playful and grow more self awareness? How many ways can we discover to become free in our dance and movement in connection with other moving, breathing bodies?
Contact Improv is a playful movement improvisation that is explored in contact with others. By using the fundamentals of sharing weight, attunement and rotation we find ways to move together. This practice develops sensitivity to our own and others movements and how they can relate harmoniously to each other.
In september I will offer into a 6 week course, here we will enjoy being part of a group for 6 weeks who grow attuned to each other 
Sign up below, two spots left.
Wednesdays 12:30 – 14:00
Dates: 22, 29 Nov & 06 December
Costs: No costs, sponsored by Maastricht Municipality. 
For a project I am hosting three workshops in November and December around consent, intimacy, boundaries and navigating relationships. I've been hosting workshops around consent for a few years now, and these are sponsored by the municipality, which is a nice opportunity to jump in and learn about consent without any costs!
I will offer gentle exercises to not only reflect upon these topics but also experience somatic boundaries, new ways of relating, expressing your wishes and boundaries and so on. Sign up below for either one or all three.
Dinsdagen 14:00 tot 15:30 
Kosten per les: 15,- (45,- voor alle vier) (Aanmelden hieronder) Data: schrijf je in voor de nieuwsbrief om op de hoogte te blijven.
Tuesdays 14:00 – 15:30
Costs per lesson: 15,- (45,- for all four) (Sign up below) Dates: Sign up to our newsletter to stay u to date.
Bewegingsvrijheid
Bewuste bewegings-les met speelse en dansante inslag. Gericht op het oefenen in verbinden met het lichaam, ontspanning, zelfexpressie en het uitbreiden het bewegingsrepertoire. Bevat elementen van mindfulness, yoga, ademwerk, contact improvisatie en Bartenieff movement fundamentals. Jou eigen grenzen en behoeften binnen de les zijn leidend. Gericht op mensen die willen investeren in de verbetering van hun mentale gezondheid en willen werken aan een positieve relatie met hun lichaam.
Movement Medicine
Mindful movement class with a playful and danceful touch. Aimed at practicing connecting with the body, self-expression, relaxation and expanding your movement repertoire. Contains elements of meditation, yoga, contact improvisation, breathwork and Bartenieff movement fundamentals. Your own boundaries and needs are your guide during this class. Aimed at people who want to positively impact their mental health and invest in a kind relationship to their body.

The Secret Theater Society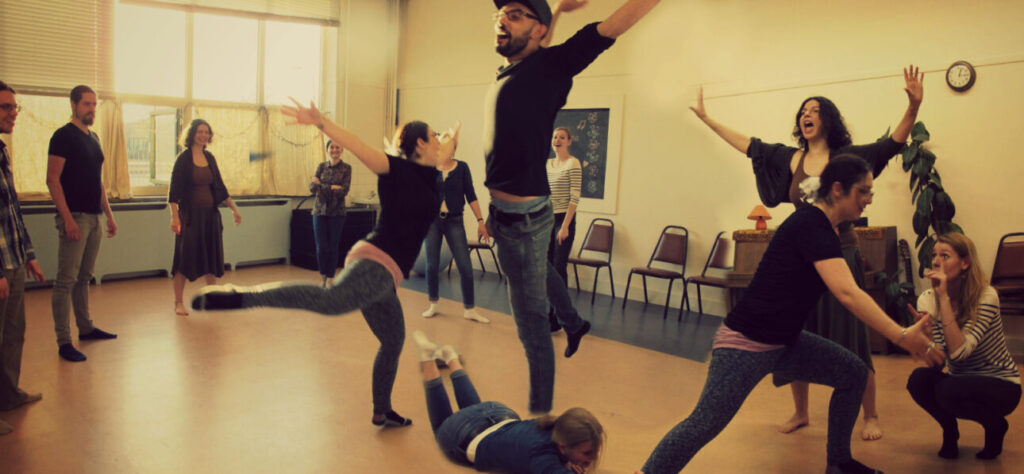 Tuesdays 16:00 – 17:30
Costs: 85,- (for all 5 meetings) (Sign up below) Dates: Starting in November
The Secret Theater Society
I would like to set up a project in which we use theater and play as a way to meet the many versions of ourselves and each other. I always found theater a wonderful medium to create meaningful experiences, express thoughts and feelings that ask for more then a verbal shape and explore the connect and disconnect between humans. If you are ready go beyond your conditioned behaviours, be brave , vulnerable and amused beyond measure; come and play! 

More info to be announced, maybe, unless it is a secret.
Sign up for an event or for our monthly mailing list to stay informed about activities such as meetings around conversation skills, contact improvisation dance or improv theatre. Our events are aimed at stimulating your personal development by expanding your comfort zone and teaching you new skills.