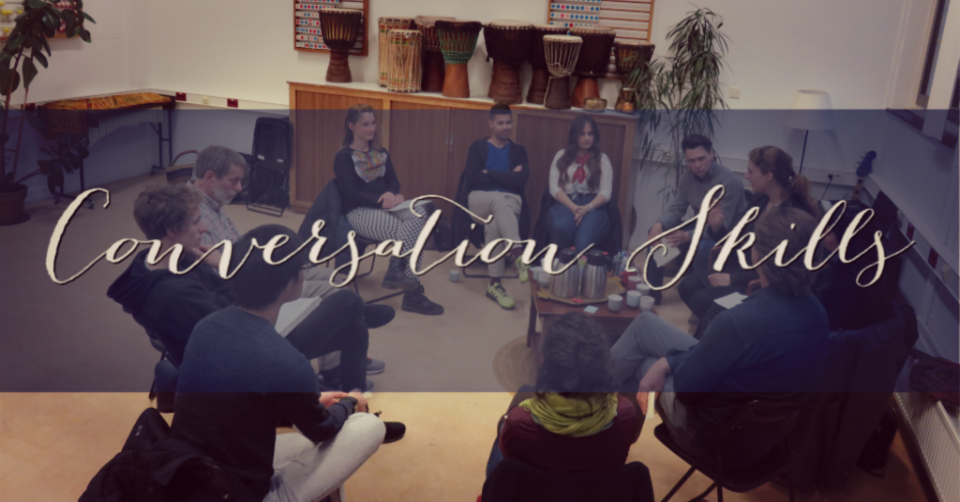 Conversation Skills
Conversation Skills – Mini Series
○ Learn about different topics within the subject of dialogue
○ Learn about their uses in everyday life & counseling
○ Practice conversation techniques in awesome exercises
○ Discover things about yourself
○ Get excited about having conversations with others!
This course is designed by Leonie (Dramatherapist) & Kontessa (Psychologist) to enable you to engage in braintingeling conversations and enhance a skill you can use everywhere! (Everywhere! Except places where you must be quiet.. 🙁 ) And with anyone! (Your grandmother, neighbor and even strangers in the bus!) So join us for a few dialogue enhancing evenings!
PROGRAM
22th of September – Reflective Dialogue
We dive into reflection as a conversation technique and experiment with how dialogue can be used as a tool for self reflection.
29th of September – Empathic Dialogue
We practise listening skills and learn about ways to deepen empathy through dialogue.
06th of October – Non-Violent Communication
We dive into the legacy of Marshall Rosenberg who who believed that we all have the capacity for compassion and only resort to violence or behaviour that harms ourselves and others when they do not recognise more effective strategies for meeting needs
COSTS & SIGN UP
€ 60,- / € 45,- for students
(want to join just one? Send us a message)
Sign up: www.centrumvaktherapie.nl/sign-up